Greg Mays doesn't just want a bench full of potential. He wants a bench logged with experience.
That's partially why his starting lineup — and lineup in general Tuesday night — so vastly contrasted Hastings' previous nine games.
The other half of the story is sickness.
Nonetheless, Mays' on-court formula produced a winning result. The Tigers beat Aurora 62-39 inside The Jungle sans Libby Landgren and Maddie Hilgendorf and instead with all 11 players in uniform.
Mays said the plan for Tuesday was to get more players involved anyway after noticing some late-game fatigue during the Tigers' pair of road wins last week.
"We had to make a plan to rest those five girls," Mays said. "We've got to make a plan to play those younger girls and it can't be 'Do we feel good about them?' We've got to say we're playing them and play them."
The intention to do so became a quick reality when the Landgrens, Libby and Emma, fell ill. Emma played Tuesday and scored 10 points — six on free throws.
Sophomore Jess Quintero filled in for Libby and chipped in 11 points and a team-high eight rebounds.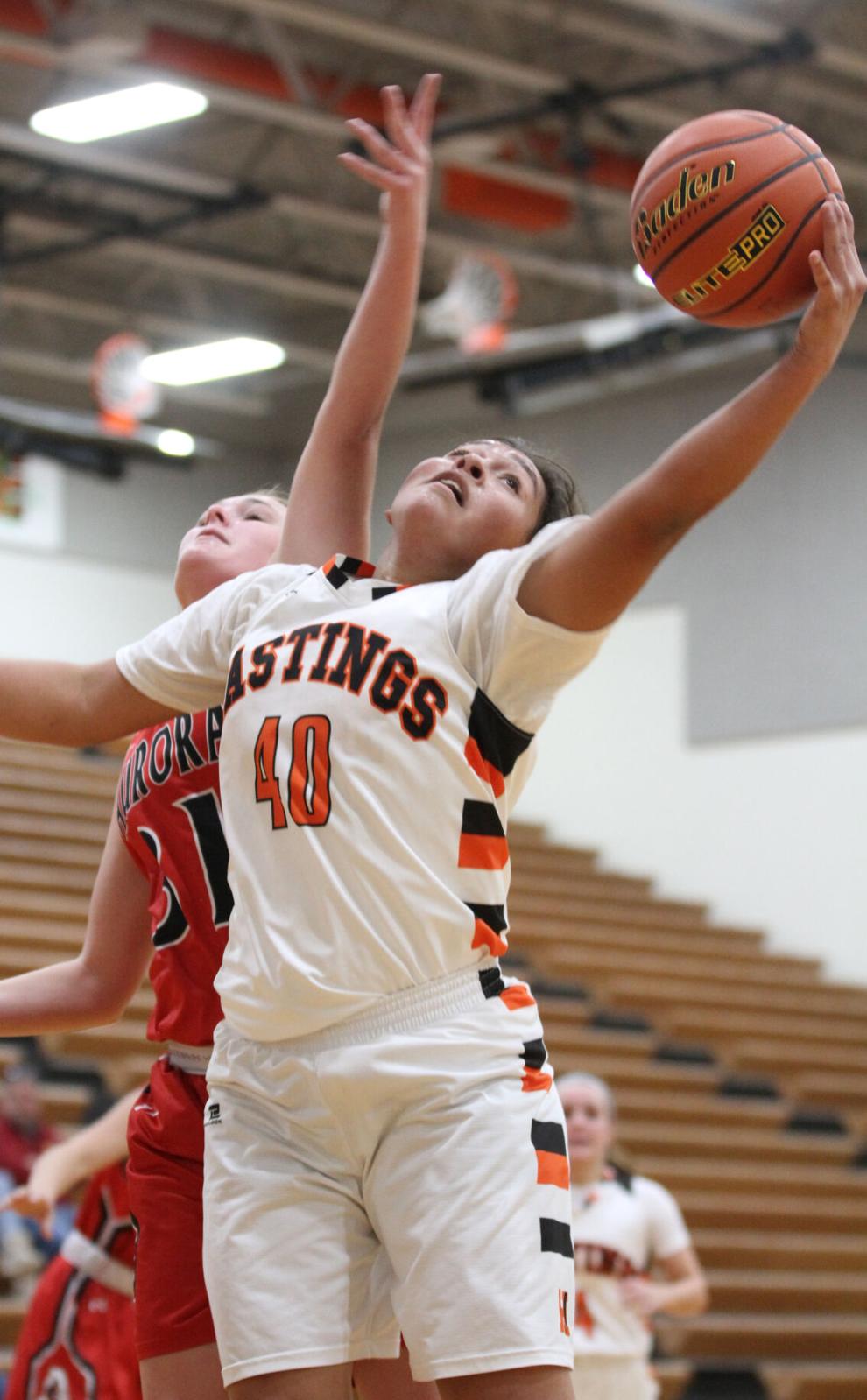 Freshman Kendall Consbruck made both of her shot attempts for five points, Madisyn Hamilton sunk her only field goal for two points and Kelyn Henry-Perlich also scored a pair of points.
"Some of those girls have not always even suited up varsity," Mays said.
Even still it was a trio of upperclassmen that led the Tigers.
McKinsey Long finished 7-for-10 with the game-high 15 points. Long finished 5-for-5 from the field in the second half.
KK Laux drilled three 3-pointers for her nine points, and Emma Synek remained steady with eight points on 3-for-4 shooting.
"I thought in the first half (the veterans) pressed a little, like 'Hey, we've got to score.' They didn't let the offense make it happen," Mays said. "I told them at halftime, 'Hey, these other girls want to score, too. I guarantee you.' They did a lot better job letting it happen."
Mays loudly reminded his team from the bench to play offense after consecutive turnovers late in the second.
That was in the midst of Aurora's best offensive stint, in which Denae Nachtigal contributed six of her team-high 13 points.
Hastings made up for it with a 7-0 run out of the break, beginning with Laux's final triple on the night.
The Tigers (6-4) scored 22 points in the third frame, following a 20-point first and seven-point second. They finished with 13 in the fourth.
Quintero was 3-for-3 in the third, showing a want to drive to the hoop. Aurora's Eva Fahrnbruch countered with six of her 11 points in the quarter.
Late, the teams broke off almost an exclusive transition game with possessions not lasting much longer than 10 seconds.
"We always want to run, but honestly, I sat here today going, can we run today?" Mays said. "I thought maybe we got to just walk it and shorten the game. We kind of thought Aurora might do that; they're very deliberate on offense.
"We thought if we played safe on defense, didn't over-pressure, didn't gamble, that their possessions would slow the game down and so I never said anything to them about not running. And right from the opening tip, they were going."
Aurora (3-8)...........7 11 15 6 — 39
Hastings (6-4)......20 7 22 13 — 62
Ellie Hutsell 2-9 0-0 5, Denae Nachtigal 5-12 3-4 13, Kasey Schuster 1-3 0-0 2, Eva Fahrnbruch 5-12 1-1 11, Rylee Olsen 2-3 0-0 4, Aleah Vinkenberg 1-4 0-0 2, Kaylee Crosby 0-3 0-2 0, Taylor Janda 1-1 0-0 2. Totals: 17-47 4-7 39.
Emma Synek 3-4 2-3 8, KK Laux 3-7 0-0 9, McKinsey Long 7-10 0-0 15, Emma Landgren 2-9 6-9 10, Jess Quintero 5-8 1-2 11, Kendall Consbruck 2-2 5, Madisyn Hamilton 1-1 0-0 2, Kelyn Henry-Perlich 1-3 0-0 2. Totals: 23-43 9-14 62.
Three-point goals: A 1-8 (Hustell 1-5, Fahrnbruch 0-1, Vinkenberg 0-2); H 5-13 (Synek 0-1, Laux 3-5, Long 1-2, Landgren 0-3, Quintero 0-1, Consbruck 1-1). Rebounds: A 24-10 (Nachtigal 7); H 31-11 (Quintero 8). Turnovers: A 11; H 10.
Boys: Aurora 57, Hastings 21
The lid never lifted off the rim for Hastings, but it seemed four times as wide for the hot-shooting Huskies Tuesday night.
Aurora enjoyed its best shooting night of the season — and by far, according to coach Kevin Asher — in its 57-21 rout of Hastings in The Jungle.
The Huskies finished 22-for-41 with 11 3-pointers.
Hastings didn't make 11 total shots. Try 6-for-36.
Aurora opened with 11 straight points on two triples by Tate Nachtigal, who had the game-high 17 points and grabbed 10 rebounds for a double-double.
Hastings, perhaps, experienced its most offensive success in the final three minutes of the opening frame. The Tigers (4-6) received a boost from Aaron Nonneman off the bench. He scored six of his team-best eight points in that span.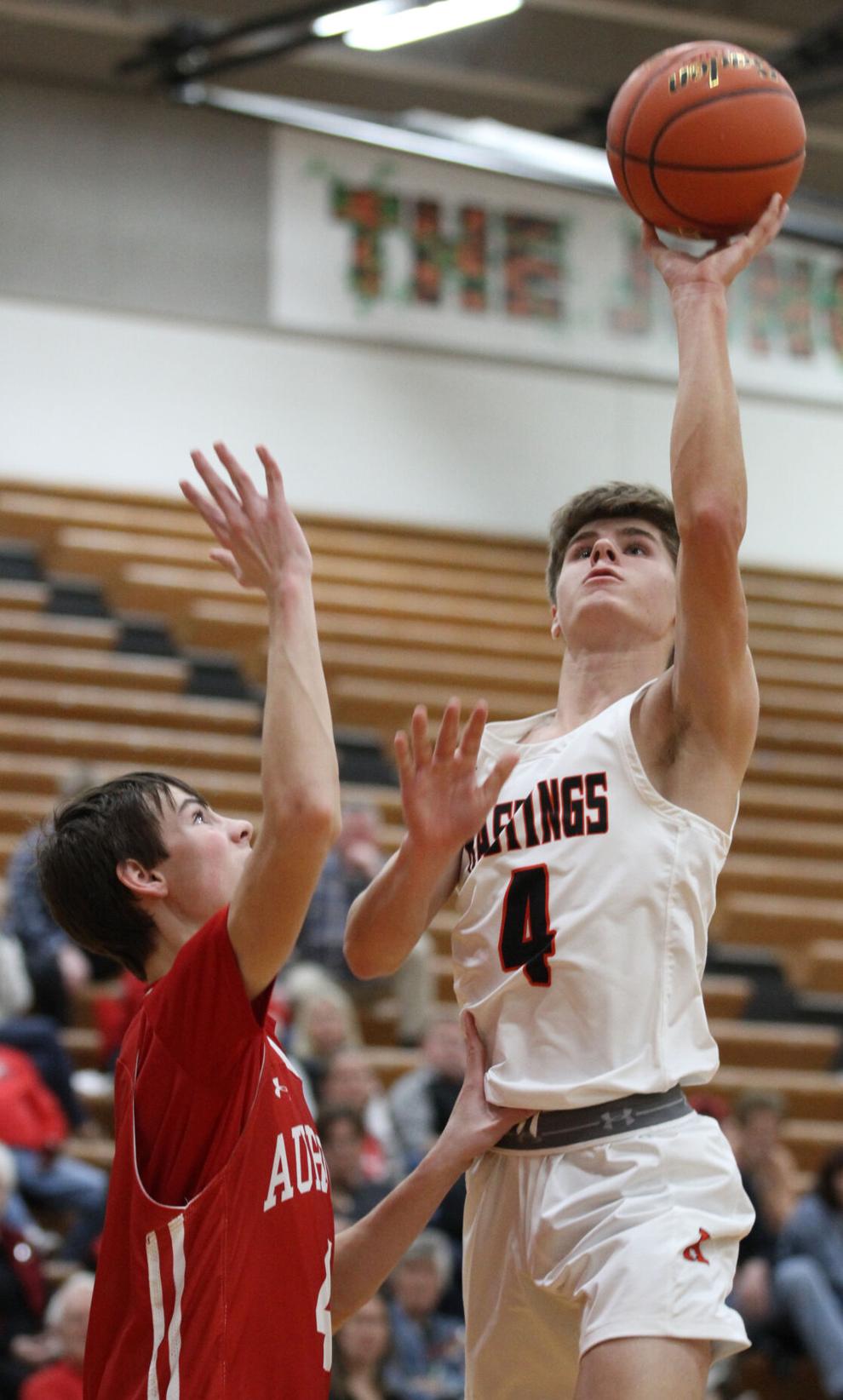 Caden Block's 3-pointer was the last basket of the quarter and closed the margin to five.
Aurora started the second quarter with 10 straight points across the first seven minutes before Hastings' Connor Riley hit a trey for the team's only bucket in the frame.
Aurora didn't quiet down after the intermission. The Huskies (8-4) poured in 21 points in the third quarter while holding Hastings to a single Landon Hinrichs free throw.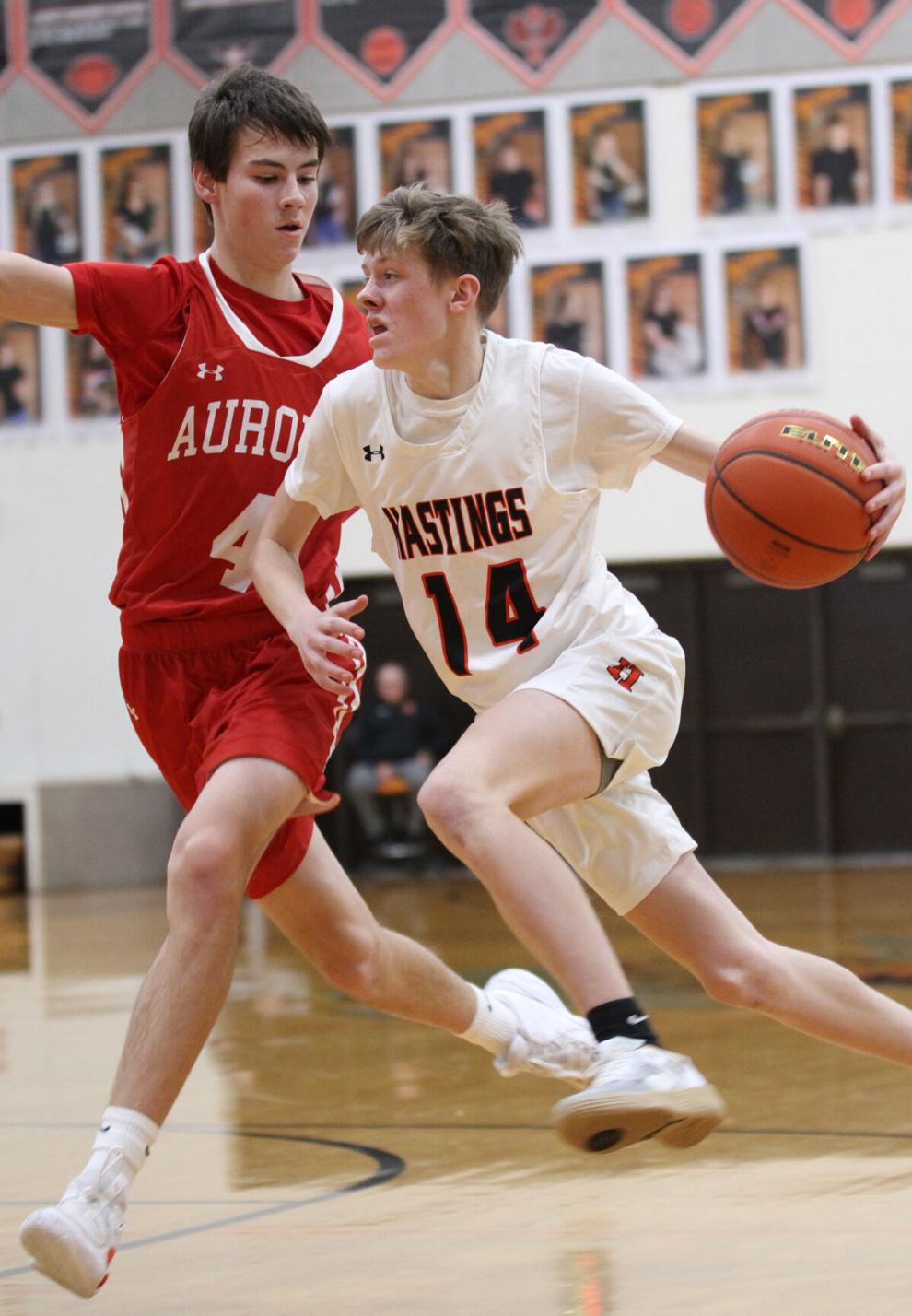 Braydon Power scored six of the Tigers' eight points in the final frame. Four came at the free throw line.
Aurora (8-4).........14 15 21 7 — 57
Hastings (4-6)...........9 3 1 8 — 21
Tate Nachtigal 6-10 2-2 17, Dylan Danielson 1-3 0-0 3, Booker Scheierman 2-5 0-0 6, Preston Ramaekers 4-7 0-0 8, Carlos Collazo 0-0 0-0 0, Carsen Staehr 3-4 0-0 7, Wade Ohlson 1-4 0-0 2, Drew Knust 2-3 0-0 5, Chase Phillips 2-3 0-0 6, Devin Danielson 1-1 0-0 3, Cauy Walters 0-1 0-0 0. Totals: 22-41 2-2 57.
Jackson Block 0-4 0-0 0, Brayden Schram 0-2 0-0 0, Caden Block 1-4 0-0 3, Connor Riley 1-4 0-0 3, Braydon Power 1-4 4-5 6, Eli Schneider 0-1 0-0 0, Aaron Nonneman 3-12 1-3 8, Landon Hinrichs 0-2 1-2 1, Tucker Synek 0-1 0-0 0, Jacob Good 0-1 0-0 0, Jaron Johnson 0-1 0-0 0. Totals: 6-36 6-10 21.
Three-point goals: A 11-21 (Nachtigal 3-5, Dyl. Danielson 1-2, Scheierman 2-5, Ramaekers 0-1, Staehr 1-1, Knust 1-2, Phillips 2-3, Dev. Danielson 1-1, Walters 0-1); H 3-21 (J. Block 0-2, Schram 0-1, C. Block 1-4, Riley 1-3, Schneider 0-1, Nonneman 1-6, Hinrichs 0-2, Synek 0-1, Good 0-1). Rebounds: A 32-5 (Nachtigal 10); H 16-6 (Power 3). Turnovers: A 9; H 10.