Blake Marquardt admits he was nervous during Hastings' district semifinal game Friday. The Tigers' head coach was even nervous going into the game. Part of that was just part of being a head coach, but he also knew that Concordia/Brownell Talbot/Omaha Christian Academy was much better than its 11-10 record indicated.
Concordia proved Marquardt correct, keeping the top-seeded Tigers silent through five innings of Friday's game at Duncan Field. But HHS pieced together a sixth-inning rally to come from behind for a 3-1 victory, pulling within one win of the state tournament.
"It was definitely nerve-racking in the sense that we weren't playing our best in the early innings," Marquardt said. "We were making mistakes in the outfield and making mistakes in the infield...Those were the things that could hurt us in the long run, and they did. (Concordia) extended the lineup and got to the top of their order more than we did. But we got to the sixth inning and score those three runs, it just showed the resiliency of this team and never giving up."
Concordia entered the game with 10 losses, but only four of those were by more than three runs and four were against ranked opponents.
Friday's battle was the epitome of a pitcher's duel. Not only were both starting hurlers throwing gems, but they accounted for two of the biggest hits in the game. Fortunately for the Class B No. 1 Tigers, Trayton Newman's RBI singled proved to be the game winner.
Concordia starter Karsten Mathsen broke the scoreless tie int he fifth inning, delivering with an RBI single. In the sixth, Newman came up to bat with a runner on third after Luke Brooks plated the tying run on a groundout. With the score knotted at 1-1, Newman pulled a 1-1 pitch into the hole on the left side, scoring Evan Rust — who was running for Justin Musgrave — and giving Hastings a 2-1 lead.
"I just wanted to get the next guy up. That's the goal at the plate, to get the next guy up, and that's what I did," Newman said. "It was relieving when we saw runners get on base and start moving."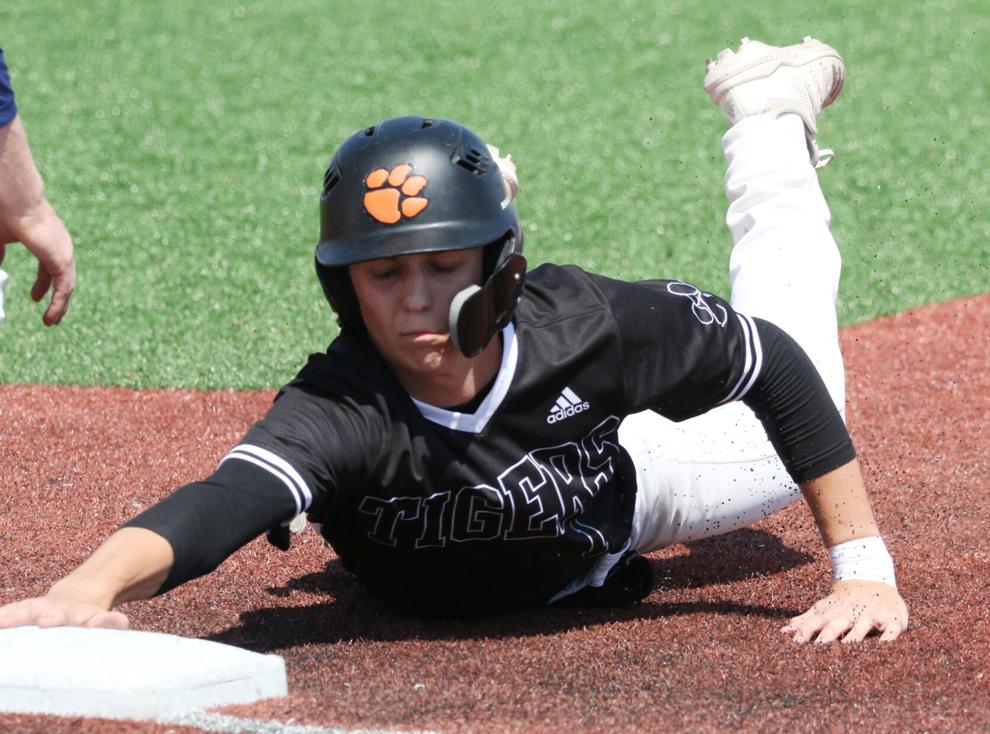 Mathsen had started the game in dominate fashion, retiring the first 11 batters he faced, inducing seven of those on popups, before Brooks was hit by a pitch in the fourth inning to become the home team's first baserunner. Marquardt knew his team needed to change its approach.
"In the fourth inning, I kind of brought them together and said we need to change our approach at the plate. The wind was blowing in and we had too many popups. We have a ton of fast guys on our team; balls in the air weren't going to cut it (Friday), and if we could hit some hard ground balls I knew we'd have a chance to get in it," Marquardt said.
The following inning, Brayden Mackey recorded the Tigers' first hit, and then the tide began to turn when HHS speedster Braden Kalvelage drew a four-pitch walk with one out in the sixth. Knowing the Tigers like to be aggressive on the basepaths, Mathsen paid special attention to Kalvelage on first, which caused him to catch too much of the plate on a 1-1 pitch to Musgrave, who singled.
After Newman's RBI knock, Mackey followed with an RBI hit of his own, making it a 3-1 advantage for the Tigers. The Hastings hit-barrage came after Mathsen had held HHS to just one hit through the first five innings.
From there, the Tigers seized the opportunity to take the momentum, pouring in three runs on three hits.
The big sixth inning was exactly what the Tigers needed to match Newman's impressive outing on the mound. In six innings of work, he allowed just one run on six hits. Only five Concordia baserunners reached scoring position, with two of those getting there via HHS errors. But Newman was able to keep four of those five from scoring.
"I had my defense behind me, and I knew they'd pick me up as long as I threw strikes," Newman said. "I located my fastball and tried to get on top as fast as I could. My curveball was just alright, but I just had to start on top with a first pitch fastball."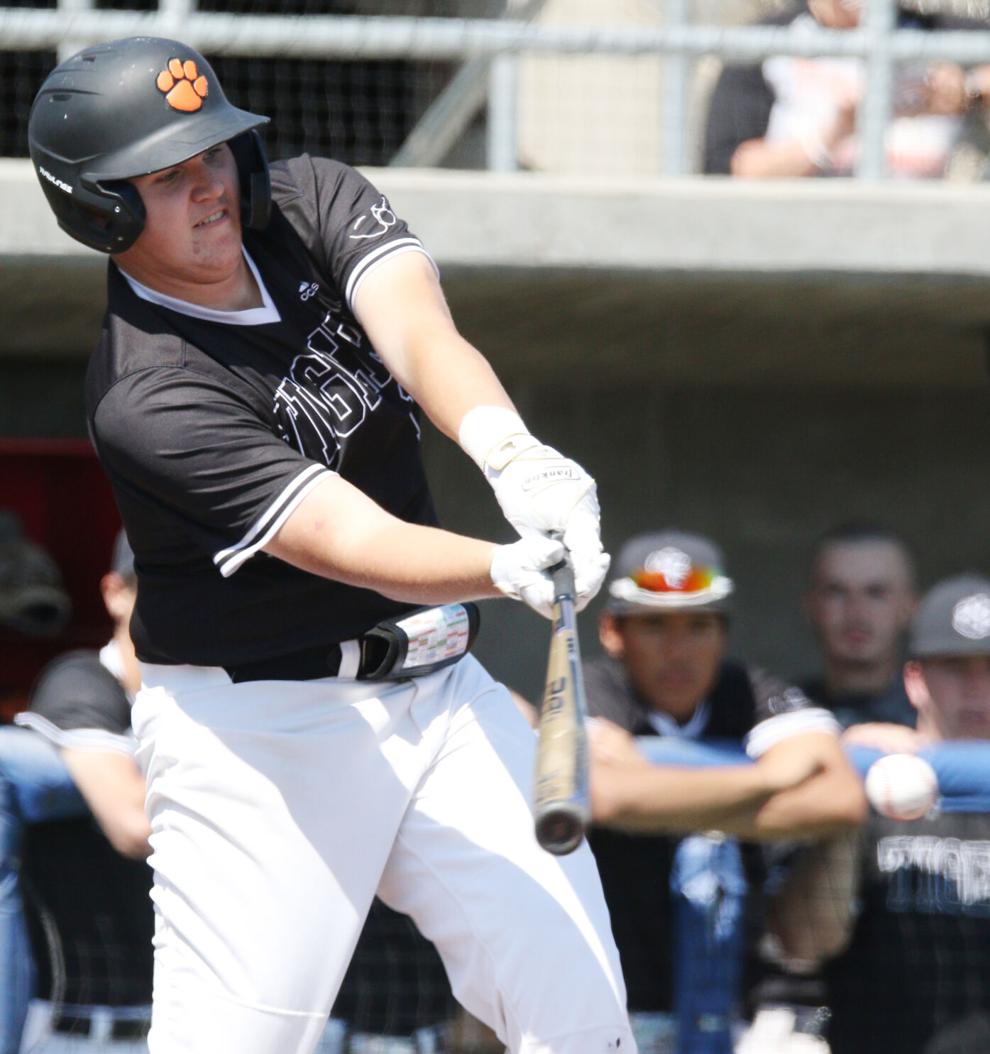 Markus Miller entered the game in the seventh and closed the door on Concordia, striking out two of the three batters he faced.
"The pitching duals are always fun to be a part of because momentum can change at any time in the game," Marquardt said. "Newman came out and did exactly what I knew he could do... He did an exceptional job and then Miller came in and did exactly what he can do. Our pitching staff did a phenomenal job (Friday)."
Hastings moves on to the district final, where it will host Wayne at noon on Saturday. The Blue Devils defeated second-seeded Plattsmouth on Friday in the semifinals. They were also in Hastings just over a week ago to play Adams Central — a game which the Patriots won 11-5.
Marquardt said his team is anxious to play in front of the home fans for the chance to punch its ticket to play at Werner Park in the state tourney.
"We generally play better at home," said the HHS coach, whose team is 12-1 at Duncan Field this year. "Hopefully we can keep some momentum. We want to be in this moment. I think we've earned the right to be at this championship stage, and hopefully we can continue (Saturday)."
C/BT/OCA (11-11).........000 010 0 — 1 6 0
Hastings (19-5).............000 003 x — 3 4 2
W — Trayton Newman. L — Karsten Mathsen. S — Markus Miller.