Hastings head coach Greg Mays believes if his team corralled one or two more loose balls out of the many they did not during Wednesday's game against Bennington, the Tigers would be playing for their own holiday tournament championship.
Instead, HHS is playing for third place at 11 a.m. on New Year's Eve.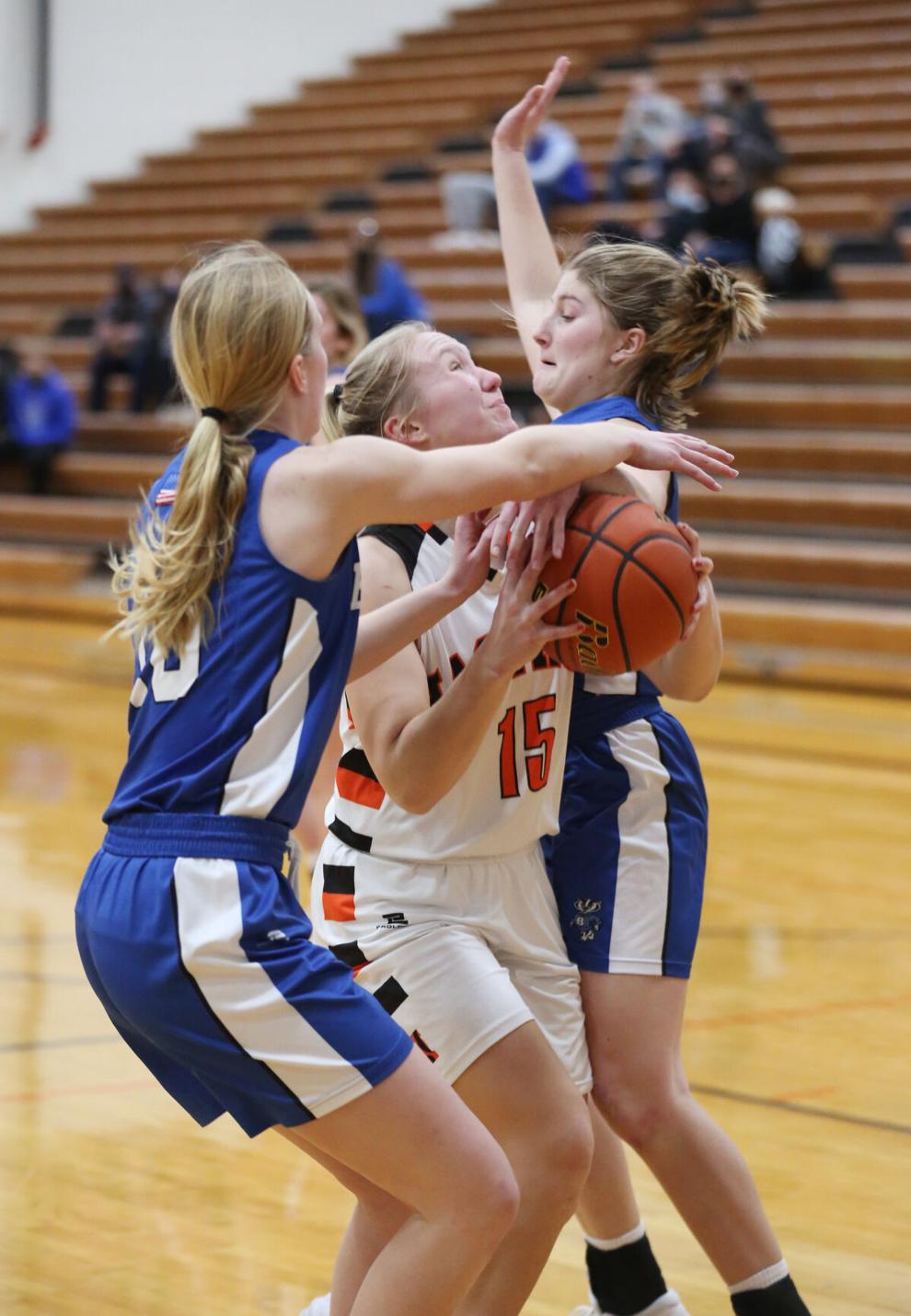 The Tigers (4-3) dropped a tight game with the Badgers 44-38 in the Jungle.
Bennington's consistent second-chance efforts cost Hastings a chance in what was largely a one-possession game all afternoon.
"The ball was loose all game and (Bennington) probably got 80% of them," Mays said. "That's it; that's the whole ballgame. I mean, that's too many extra possessions."
The Badgers held a one-point advantage at half. Their largest lead was six with 2:45 left in the game, but never led by more than four for the first 30 minutes.
Hastings escaped the first with an 11-10 lead after a McKinsey Long buzzer-beater. Another 3-pointer by Long narrowed the gap to 25-24 at the halftime horn.
After the Badgers led 33-29 late in the third, Lauren Hinrichs banked a turnaround. Then Maddie Hilgendorf tied the game early in the fourth.
Bennington's magnetism to the ball accounted for the difference.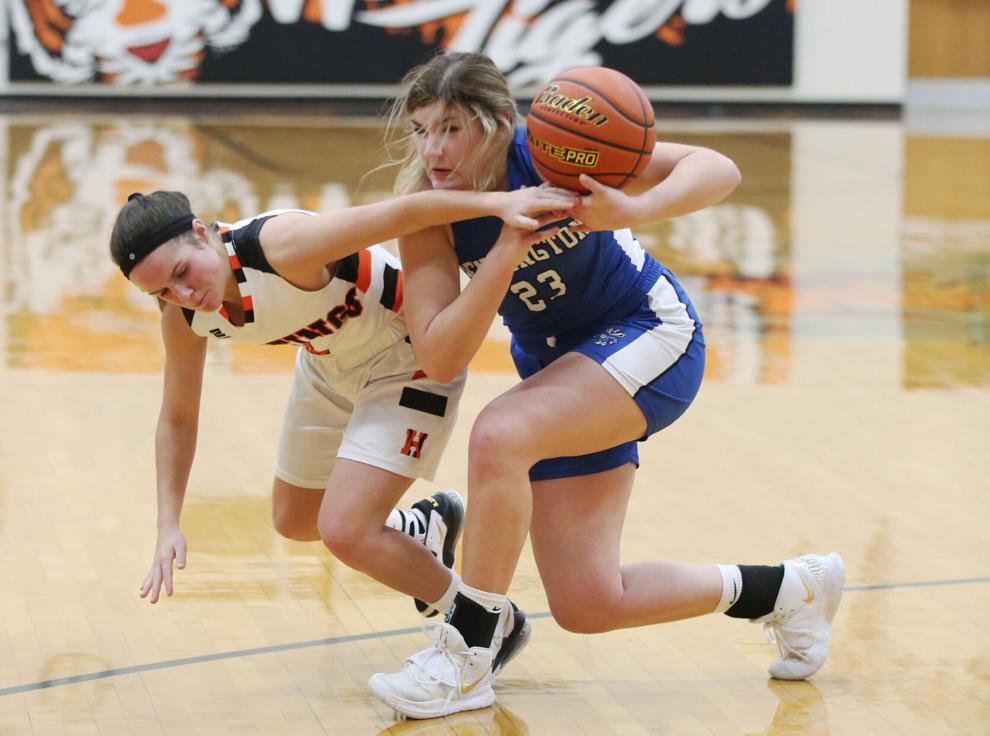 Hastings trailed 37-36 midway through the fourth and gave Bennington a second chance. It was costly.
Abby Boyes, who scored a game-high 14 points, drilled a 3-pointer. Then, off of a Hastings turnover on the ensuing possession, Taylor Sedlacek bulged the Badger lead to 42-36.
Hilgendorf answered with the final bucket of her six-point fourth quarter, but the Tigers didn't net another across the final 2:33.
The Tigers fouled Alison Mack, who missed the front end of the 1-and-1, but Boyes fought off Long for the offensive board.
Bennington's inbound pass after the jump ball was bouncing free between multiple Tigers before it was picked up by Boyes, who flushed two more freebies to cap the scoring.
"I can't think of one loose ball we got," Mays said. "That's just the end there. You can't have to play defense 20% more times than they have to play defense. You're going to get beat."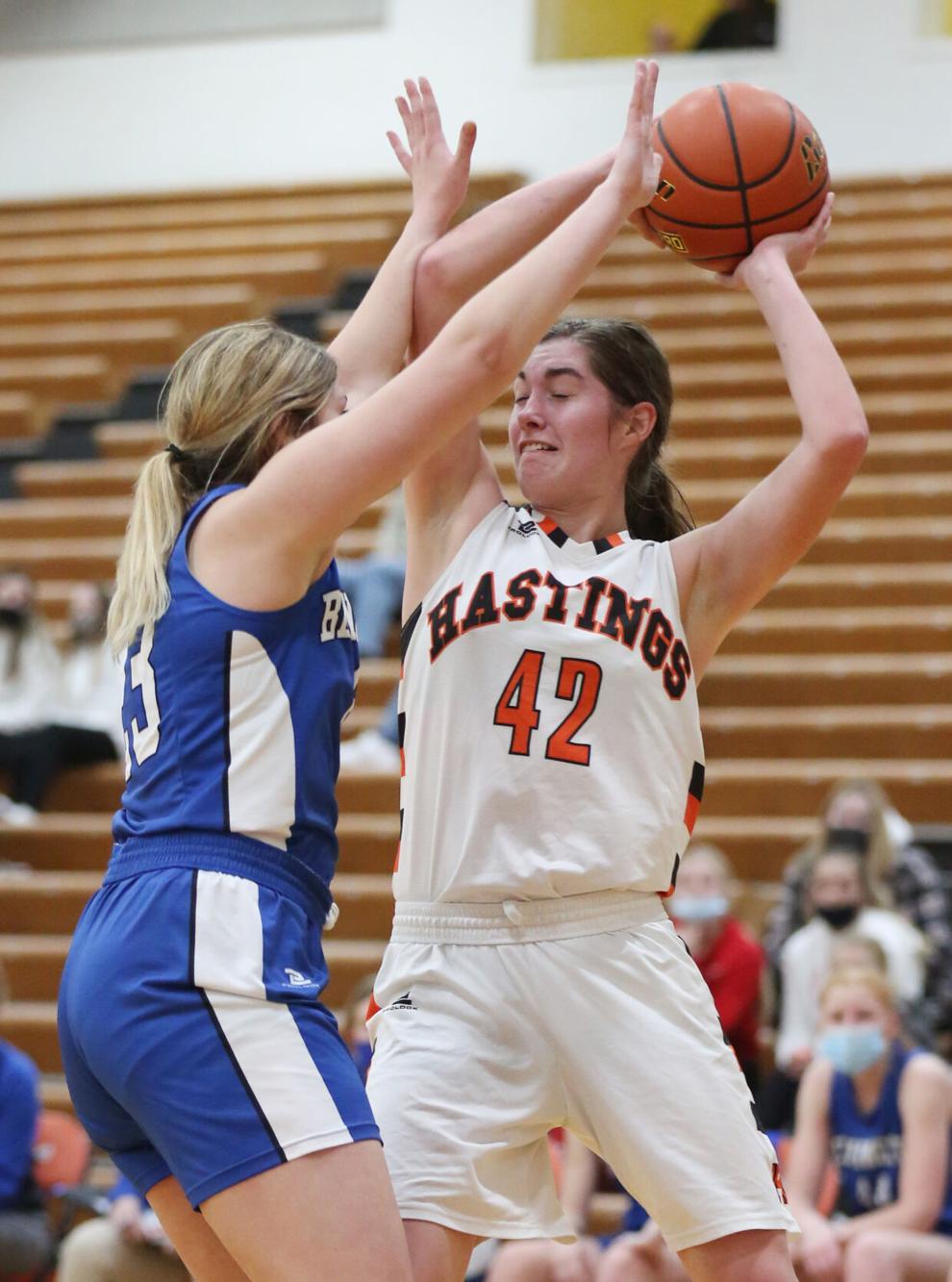 The Tigers had success from the floor in the first half, nailing four 3-pointers — two from KK Laux — and shooting 10-of-25. They ran with the Badgers to trade buckets.
Laux opened the second half with a corner 3 to cap her scoring at a team-best 11 points, but the Tigers shot 3-of-14 in the third and 2-of-8 in the fourth.
"I thought offensively we did some good things all night," Mays said. "I liked what we did offensively."
But defense was where the issue lied.
"We couldn't ever finish a session. The ball would be loose, they'd get it and get to play offense again," Mays said.
BEN (4-3).............10 15 8 11 — 44
HHS (4-3)...............11 13 7 7 — 38
Maddy Elwood 2-6 1-2 5, Abby Boyes 4-13 4-4 14, Taylor Sedlacek 3-8 2-4 8, Emma John 0-2 0-0 0, Alison Mack 3-4 0-3 6, Kennedy Gansebom 3-9 0-0 8, Avy Cornett 0-2 0-0 0, Darby Ryan 0-2 0-0 0, Mazzi Melton 1-2 0-0 3. Totals: 16-48 7-13 44.
KK Laux 4-10 0-0 11, Dacey Sealey 1-5 1-2 3, McKinsey Long 4-12 0-0 10, Maddie Hilgendorf 3-10 2-2 8, Lauren Hinrichs 1-6 0-0 2, Charli Coil 1-1 0-1 2, Nyagour Duang 1-2 0-0 2. Totals: 15-47 3-5 38.
Three-point goals — B 5-18 (Elwood 0-1, Boyes 2-9, Sedlacek 0-1, Gansebom 2-3, Cornett 0-2, Ryan 1-2); H 5-19 (Laux 3-6, Sealey 0-2, Long 2-8, Hilgendorf 0-3).
Rebounds — B 39 (Sedlacek 7); H 25 (Hilgendorf 7)