Physical Therapy and Sports Rehab Hastings has updated its facilities with an aquatic treadmill that allows physical therapy patients to do their exercises on site and in privacy.
The aquatic treadmill, called the HydroWorx 300, is a treadmill with a metal and glass casing that fills up with water and allows patients to run, walk and do other exercises in the water, while taking up about as much space as a normal treadmill. The casing holds about 500 gallons of water up to 5 feet high and is narrow enough to fit through a door.
The machine at PTSR Hastings is the only HydroWorx 300 in Nebraska.
Brent Weston, a physical therapist, said being in the water takes pressure off a person's spine, knee, hip or any weight-bearing part of the body. For a patient coming out of crutches or a brace, this lets them go through normal walking motions sooner and with an easier transition.
"We need to limit the impact or limit the weight bearing and get them off the crutches, get them out of their walking boot, get them out of their brace and go through normal mechanics of walking and running," Weston said.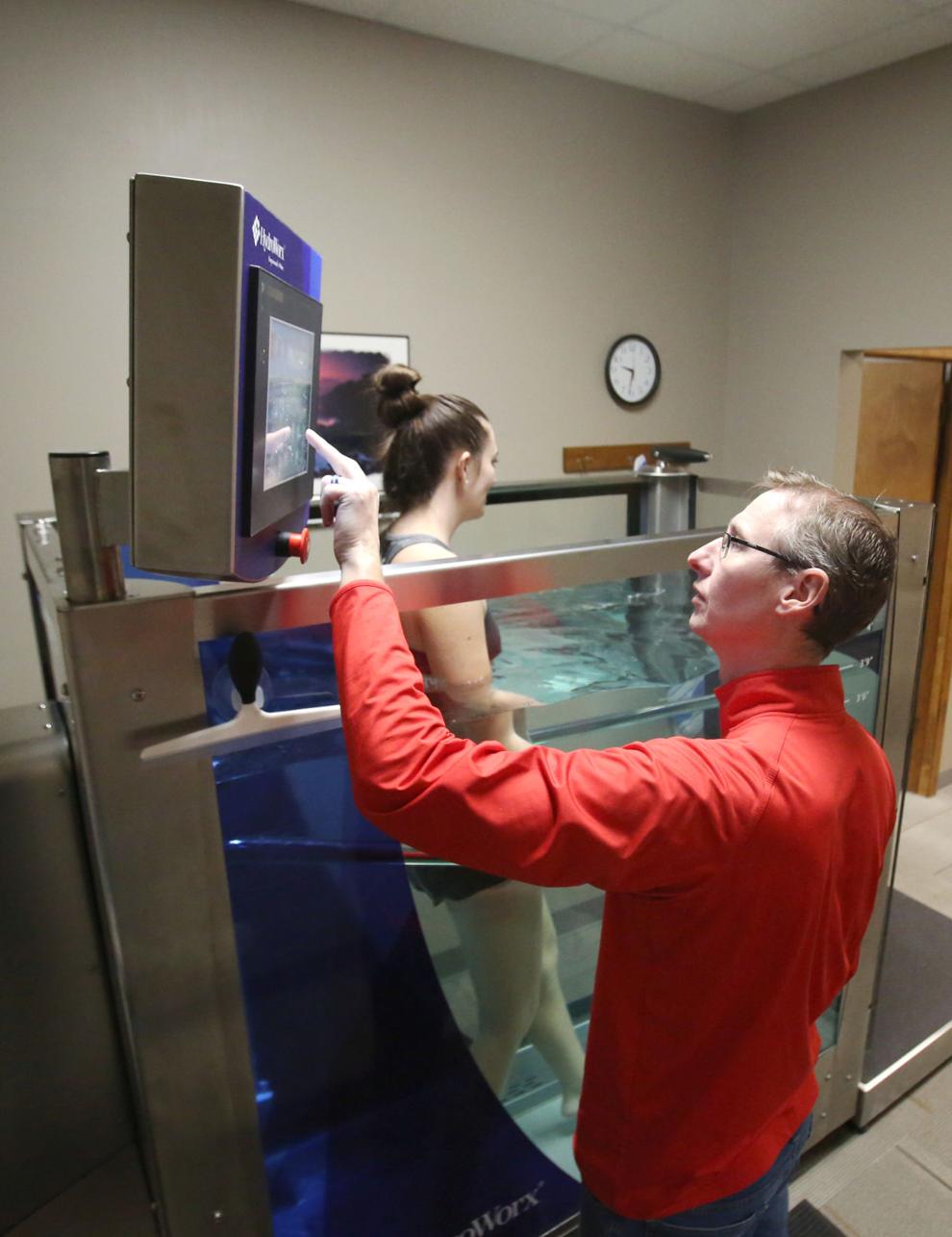 Taking the pressure off also helps with the pain.
Moving through water also serves as resistance training, because water is more dense than air.
Aquatic therapy for PTSR Hastings isn't new. Previously, the company did aquatic therapy at the YMCA swimming pool. But the HydroWorx machine has several features that Weston said were worth the investment.
"You can do everything you can do in a regular pool and a little more," Weston said.
The treadmill features a chair for people to sit in and work their upper body, and a jet to add extra resistance while running.
The treadmill is attached to a water recycling system that completely empties and refills for every new person. The treadmill can fill up and empty in a few minutes, which is just enough time to do some stretches or talk about the therapy session plan, Weston said. Water depth can be adjusted by the inch and within seconds.
Because the water holding portion is glass, the therapist can keep an eye on a patient's exercising form and help make corrections.
Weston said one of the added benefits with the HydroWorx is more privacy than previous pools. He said some people didn't feel comfortable doing physical therapy at a public swimming pool. The HydroWorx sits in a room that is enclosed with barn-style doors.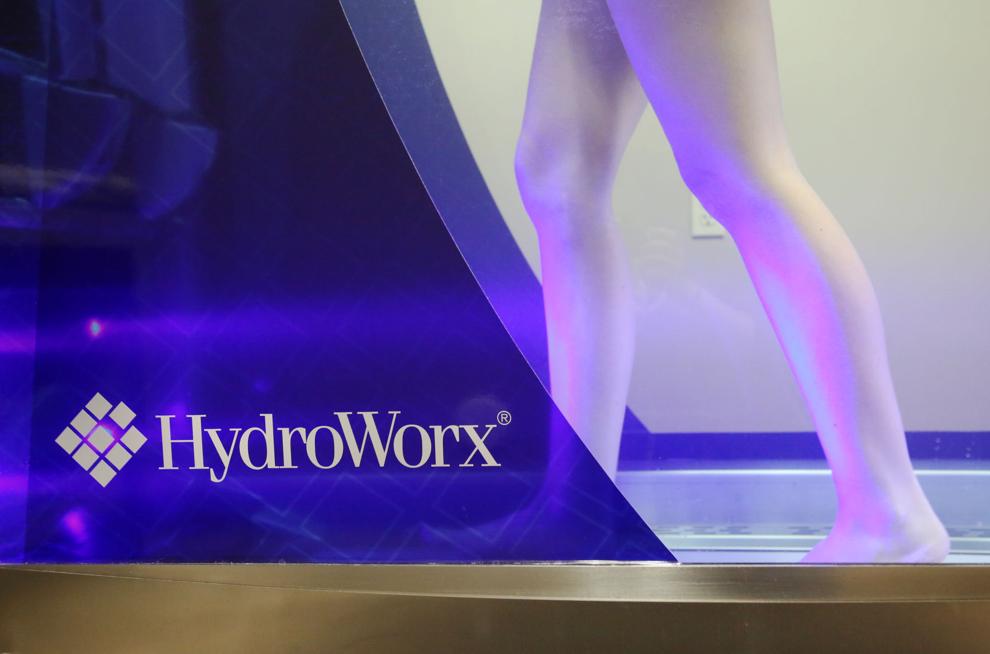 Weston also said having the aquatic treadmill makes aquatic therapy exercises more accessible. The HydroWorx machine can be used for part of a therapy session, instead of it being the whole session.
"After 20 something years of being off-site. it's just really exciting to have it in the building and be able to just offer the aquatic therapy all day every day," Weston said.
The aquatic treadmill has been in use since November 2019, he said, and children, high school students and elderly have gotten the chance to use it.
Weston said his patients have enjoyed working out in the 93-degree pool, adding that he occasionally has used it to exercise. Many have wanted to just try the machine.
"They've been wanting to do it," Weston said. "People walk by and be like, 'What is that? Can I use that? Do I need water therapy?' "
Just like standard treadmills, people wear a wrist strap that shuts off the treadmill and drains the water in case the patient falls. There are also rails for support.
Weston said the HydroWorx machine is another tool at the facility. Who uses it is determined by the physical therapist on a case-by-case basis.
"The end game is to exercise, do all the other therapy things we do, to try and make the changes and get their pain levels down and get them functioning," Weston said.